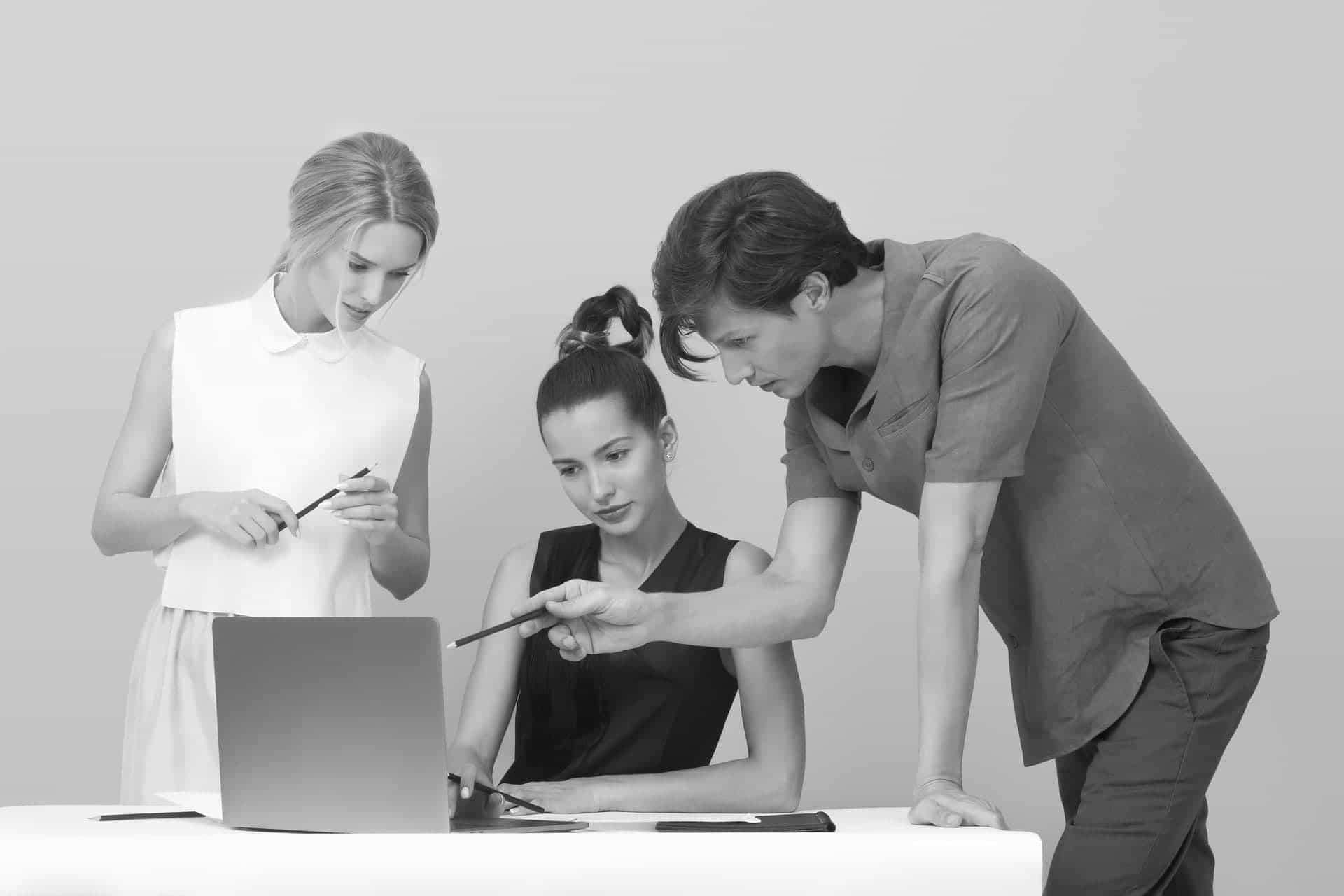 White-Label Company Registration Platform
Save time and money when registering companies by taking our white-label registration platform and making it your own. Deployable in less than 72 business hours.
ddddd
General Overview
Our labour-saving White-Label Suite company registration suite is primarily designed to enable law and accounting firms who want to register new companies quickly, expertly and cost-effectively. It allows you to effortlessly offer new company documents that perfectly match your branding and are of the highest quality, while dramatically reducing administration costs. All of this and more is managed by the platform, leaving you free to focus on dealing with the needs of your clients and the requirements of your business.
Use your own drafted documents
Dramatically reduce reworks
Eliminate human errors
Reduce admin costs
Speed up the registration process
Improve customer satisfaction
Grow your brand awareness
Optimise business processes
Public Facing Platform You can easily enable your practice to receive and process company registration applications, in a fully automated manner, removing admin costs and human errors, while delivering great service.
Back Office Platform You can use our white-label platform to enable your employees to place company registration applications, produce company documentation and deliver it to your clients, in a very secure and controlled environment.
With a full custom document production system (using your templates or ours), comprehensive and highly accurate validations, advanced fraud protection and managed infrastructure as standard, all you need to do is focus on growing your business. The platform will handle the rest.
1 Any custom implementation requests will be quoted separately.
Type
Fully Managed White-Label platform
Available products
• Private & Public Companies
• Discretionary Trusts
• Unit Trusts
• SMSFs

Additional available products & add-ons
• Business Names
• Company De-Registrations
• Company Changes (Maintenance)
• Company Renewals
• Document Printing Add-on
• Manual Review Add-on
• Collaboration Add-on

Privacy & Security
All white-label implementations are completely isolated, the data is encrypted in trasit and at rest. All the data is stored and backed up in Australia. Passwordless account login option.
Branding & Customisation
Depending on the requirements and the final scope, we can customise virtually any aspect of the white-label platform, including any specific desired workflow and/or the documents that are produced.
Custom Integrations 1
Upon request, any white-label implementation can be extended and integrated with virtually any software or service.
Enquire Now or Request a Demo
White-Label Company Registration Platform Features
Fully managed infrastructure
Encryption in transit and at rest
Data privacy as standard
Disaster recovery procedures
Optional two-factor authentication
Optional passwordless login
Advanced data validation
Ability to produce PDFs and/or DOCXs
Secure document storage and delivery
Xero invoice automation
Stripe billing integration
Intelligent forms
Reduce errors, administration and support costs using our bespoke forms. The forms are designed and build with privacy, security and user experience in mind. Some of the forms feature automatic calculations, address autocomplete, share allocation calculations and more, all to ensure that the data submitted and processed, is as error-free as possible.
Streamline your company registrations, trusts and SMSFs establishments, and scale up your business today!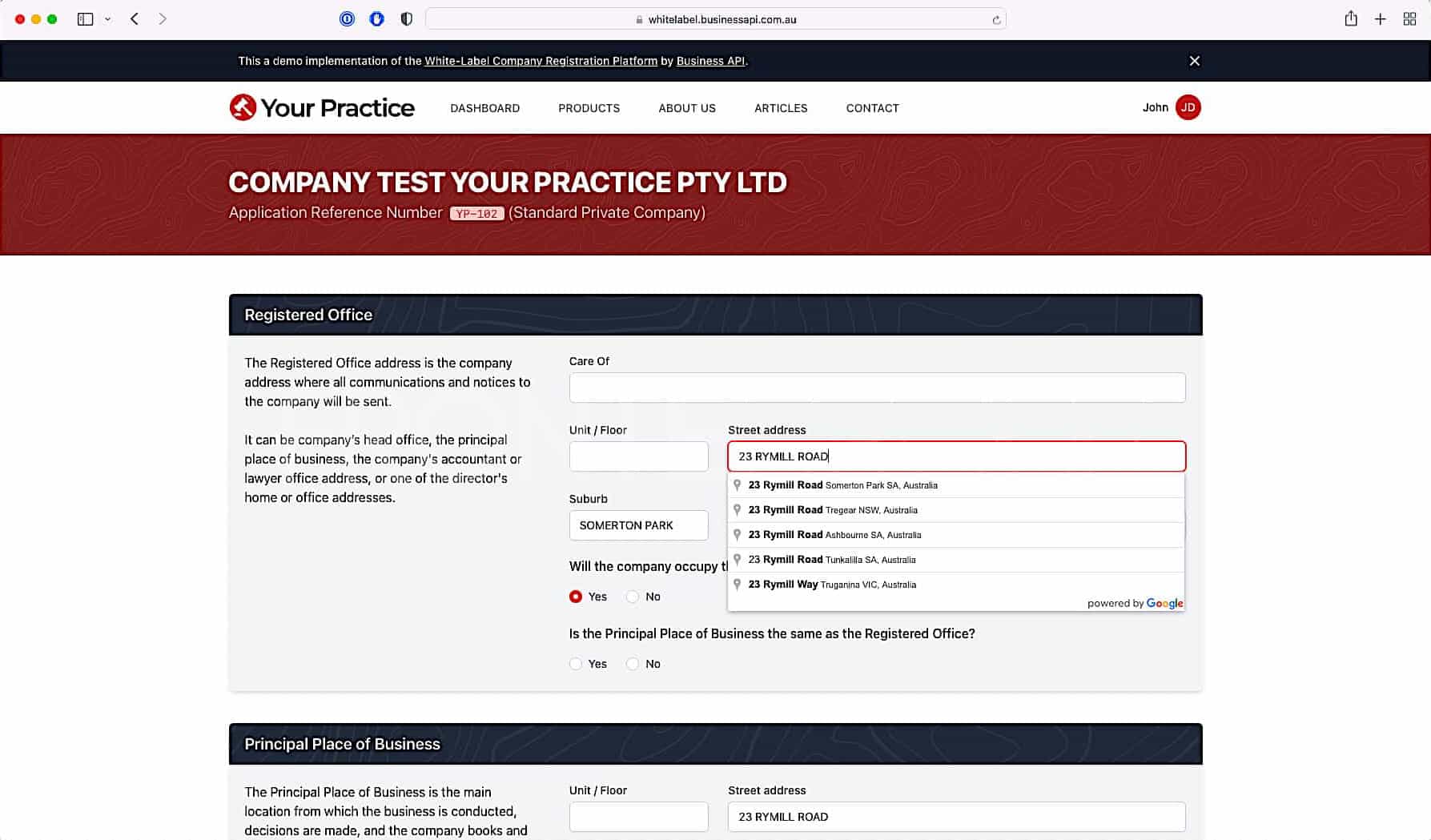 Perfectly tailored document packs
Your document packs will perfectly match your branding, eliminate errors and significantly reduce administration costs.
You can opt for an all-in-one document pack PDF, multiple PDFs, or an archive with a mix of PDFs and editable Microsoft Word documents.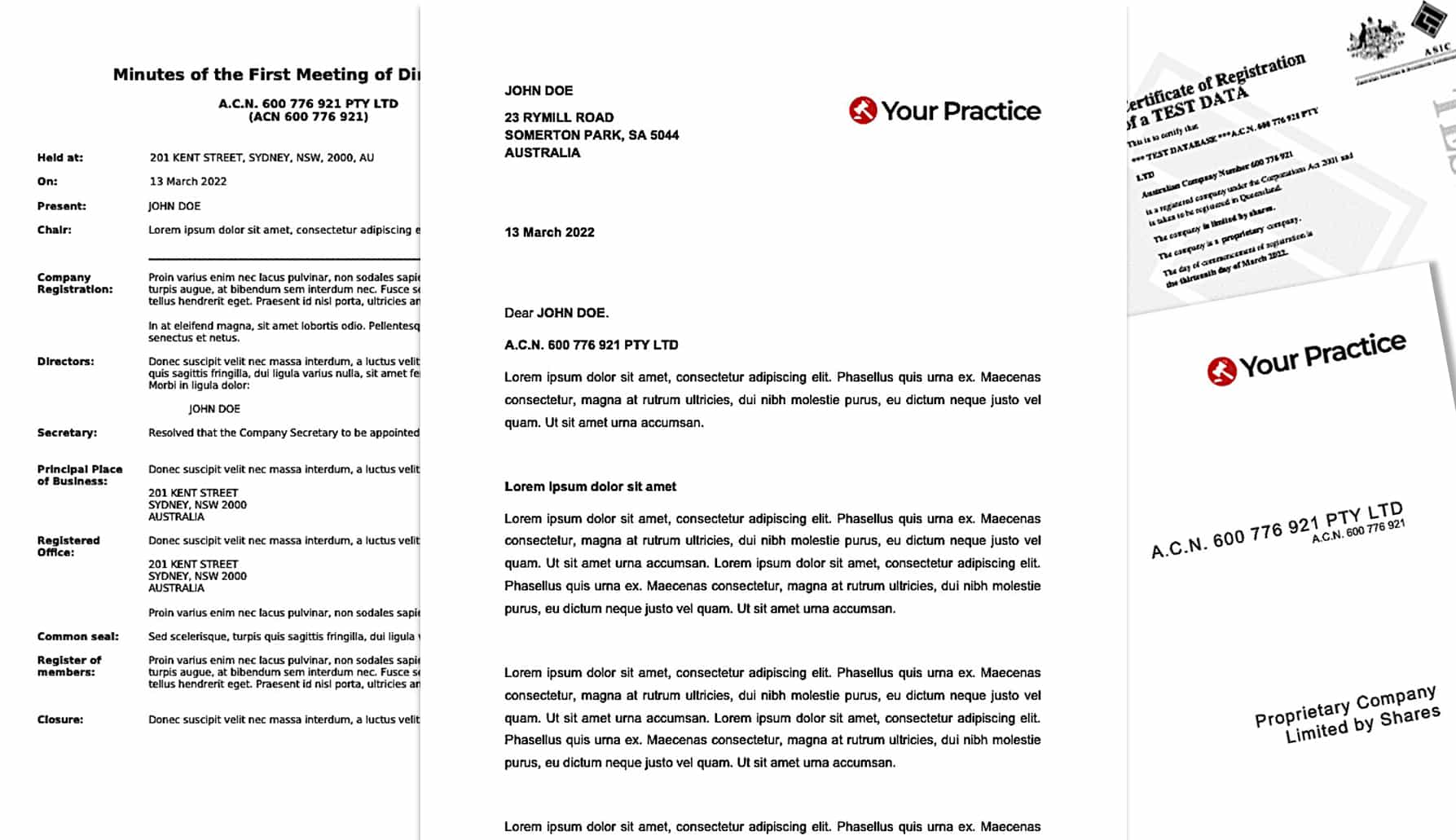 White-Label Company Registration Platform Screenshots
White-Label Platform FAQs
All available products, including the additional ones, come with documentation for your customers. When you have your own templates, during the initial setup of the platform, our office will process all your templates and adapt them to work with the platform's document generation engine. All your documents will be produced exactly the way you want them.

Becuase the white-label platform will be customised to suit your business, each document pack can be tailored accordingly. If you need to send the client an all-in-one PDF file along with some Microsoft Word editable ancillaries, or if you want to have individual PDFs in the document pack, anything can be achieved to better fit your business.

Being an ASIC acredited software provider, we've build the platform so all your applications go straight to ASIC, significantly reducing the registration time. On an average, if the company structure is straight forward and there is no warning when you search for the company name availability, the ACN will be issued and the documents will be produced in less than 5 minutes.

Yes the platform handles all the payments. All the payments are charged by you, using your preferred payment processor.

Yes it does. By default it is set to communicate with your clients in a public facing approach, where your clients would directly receive all the documents. This can be changed to better suit your specific requirements.
Ready to begin?
Get in touch today to organise a demo session. The walk-through will take around 15 minutes and it will cover account creation, live company registration, document generation, invoice issue, client communication and more.